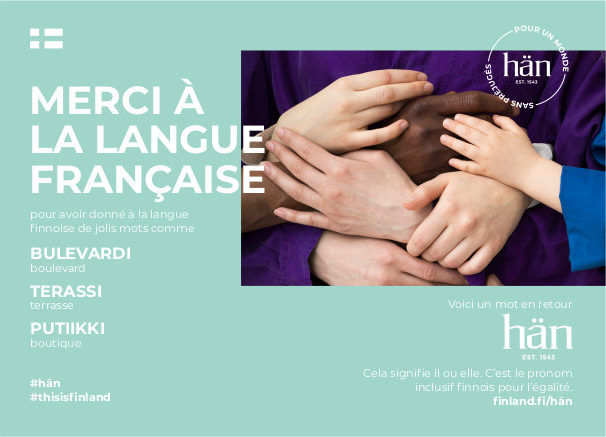 Hän Postcard: Merci à la langue française! 2
Merci à la langue française, pour avoir donné à la langue finnoise de jolis mots comme
Bulevardi (boulevard)
Terassi (terrasse)
Putiikki (boutique)
Voici un mot en retour: Hän. Cela signifie il ou elle. C'est le pronom inclusif finnois pour l'égalité. Pour un monde sans préjugés.
This horizontal postcard has white text on a mint green background and a photo of the torso and hands of a person dressed in purple. Six hands of different shapes and sizes are holding the hands of the purple-clad person. The card features three Finnish words that originate from French: boulevard, terrace and boutique.
Size A6 (105 x 148 mm)
Bleed 3 mm
To promote inclusivity and equality, Finland wants to introduce this word – and the thinking behind it – to the rest of the world.
Downloads
Edited: 9.12.2020