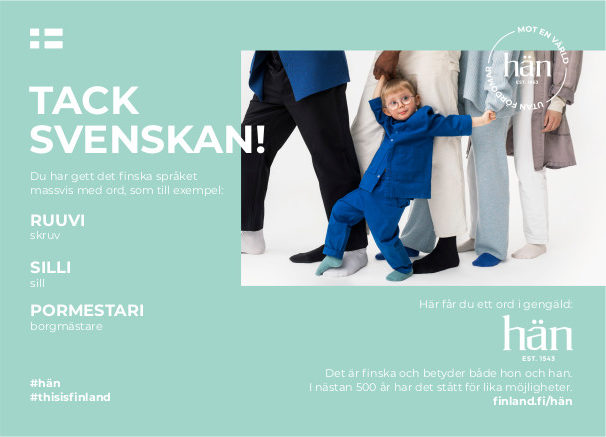 Hän Postcard: Tack svenskan! 2
Tack svenskan! Du har gett det finska språket massvis med ord, som till exempel:
Ruuvi (skruv)
Silli (sill)
Pormestari (borgmästare)
Här får du ett ord i gengeld: hän. Det är finska och betyder både hon och han. I nästan 500 år har det stått för lika möjligheter. Mot en värld utan fördomar.
This horizontal postcard has white text on a mint green background and a photo of a young child with glasses dressed in all blue holding the hands of two adults of which only their legs can be seen. There are altogether four pairs of legs behind the child. The card features three Finnish words that originate from Swedish: screw, herring and mayor.
Size A6 (105 x 148 mm)
Bleed 3 mm
To promote inclusivity and equality, Finland wants to introduce this word – and the thinking behind it – to the rest of the world.
Downloads
Edited: 9.12.2020